::Project::
deGRISOGONO @ BASEL WORLD 2014
::Type::
Video Mapping
::Date::
2014
::Client::
deGRISOGONO Geneve
::Partner::
Av Professional
BigSign
::Credits::
Gerry Hahn (Idea, Conception, Art Direction)
Adi Markusich (3D Modelling & Animation)
Alexander Kvasnicka (3D Modelling & Animation)
Rene Vidra (3D Modelling & Animation)
Alexander Schmid (3D Modelling)
Jackie Pirron (3D Rendering)
Andreas Holzinger (Motion Graphics)
Audio Device (Sound)
Sabine Korlath (Technical Setup)
Christian Kurz (Documentation)
:: Background information
The Basel World is probably the world's biggest and most important event for the watch & jewellery industry.
1.500 exhibitors from 40 countries show their new collections and masterpieces on 140 000 m2 exhibition area. No doubt that you need a very special fair appearance to get the visitors and journalists attention – get ready to ruuuuuuuummmmmbbbbblllle….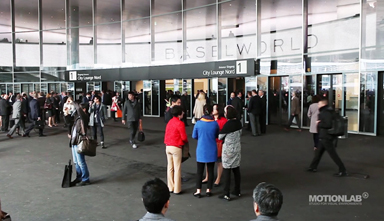 :: SPECIAL CIRCUMSTANCES OF A FAIR
As MOTIONLAB was assigned to create an unique audiovisual highlight for deGRISOGONO's fair appearance at the opening day of the Basel World 2014, it was clear that we have to deal with typical fair issues: bright light conditions, less space for technical equipment and mounting, very unique working conditions and the request that the intervention can be removed very quickly, because the space will be needed after the opening day for clients meetings.
::CUBIC SCULPTURE
We thought about some options, created a facility study and discussed the details with the client. Relatively soon it was clear that we had to create a kind of sculpture,
* which fits to the existing architecture of the booth,
* which is big enough to make some noise.
* which can be mounted and dismounted quick enough
and
* which can be created, produced and transported to Switzerland within 3 weeks
* relatively wide spectator area
A cubic sculpture seems to us as an manageable and sensible solution for that issues. This simple geometric form already existed in the fair appearance of our client – like every jewellery of our client is presented in a (glass) cube, the facade of the booth exists of squares, the body of the new watch ALLEGRA has a square shape, give-away-bags will have the shape of a square and so on. So why not using that and create some abstract sculpture which remembers lightly on the shape of a wrist watch.  The basic idea was born…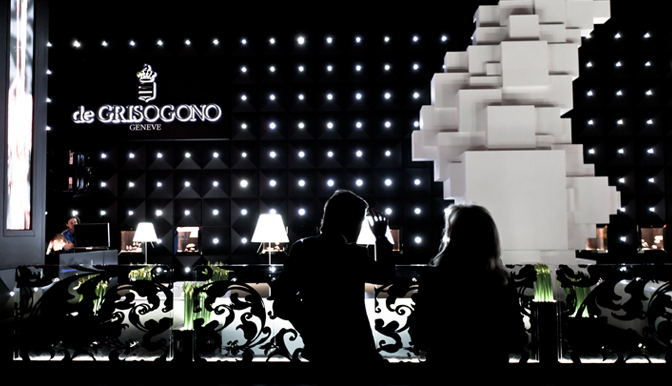 ::THE CONTENT
Mainly the time issue was really challenging us. Overall we had about 4 weeks from client decision to show day. 4 weeks for creating and producing a sculpture and developing and producing the audiovisual mapping content for it and setting on stage the whole stuff at the fair. No Fails allowed!
Content-wise we had to transport the appearance and emotions of the new watch collection "ALLEGRA".
…more written info coming soon…