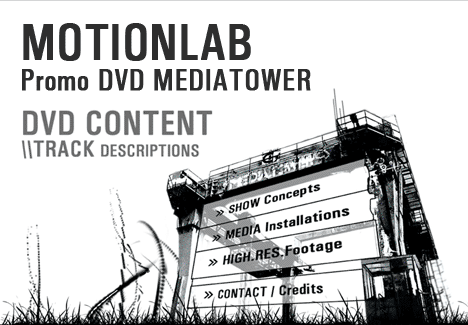 The Mediatower is made to get in contact with other (extra)terrestrial
life-forms. Since his 1st appearance in the middle of nowhere (Austria),
it is sending signals and codes. There is no need to purchase expensive decrypting machines - the message is ready decoded and it's so simple:
booking@motionlab.at

4 main categories, 9 videotracks and 3 picture-sequences
show the wide range of MOTIONLAB Visual Artwork.
if you have any problems downloading or watching the videos, please contact us: support@motionlab.at
Copyright by MOTIONLAB 2007 - ALL RIGHTS RESERVED
SHOW Concepts
Different aims need different concepts. Theatre play or festival area - with a keen sense of doing visuals, there is an enriching ability for every type of "show". Setup concepts and live visual performance in one package.


MULTISCREEN LIVE VISUALS >>>>>>>


UAF Festival 2006
Type: Live recorded Cut
Sound: Showintro by Patrick Kong
Showreel Sound by L'Onomatopeur

Our first multiscreen live visual show at the Urban Art Forms Festival 2006 (Wiesen/Austria).
MOTIONLAB
visualized the DJ set of Adam Freeland, making the masses move...
FLOOR CONCEPTS >>>>>>>>>>>>>>

Compilation
Type: Visualization
Sound: Fuxblut

Get a feel for how visual conceptions can metamorphose a floor or an area. See different types of multiscreen setups combined with several media add-on like slide-projektions or LED walls. Dive into high qualiy footage and extra special Fuxblut sound. Take a ride with us through 6 sceneries and explore the worlds of MOTIONLAB

Equaleyes X
Type: Live Recorded Cut
Sound: Mr. Rob

A MOTIONLAB multi-pack in one of the 10 largest cultural districts in the world - the MuseumsQuartier (MQ) in Vienna/Austria. Floor concept, live visuals, video & slide installations @ Vienna's most important visual community event, Equaleyes.
VISUAL STAGE DESIGN>>>>>>>>>>>



"Horizonte 2020"
Type: Pictures

A selection of photos from the "Horizonte 2020" show (Siemens). Dancers, acrobats and live visuals dealing with future, progress and nature. Visuals and dance performance as inspiration to take on the responsibility for our planet, Mother Earth.
HIGH.RES Footage
Leave the conventional screen formats and resolutions - impressive screen sizes, brilliant display qualities and incredible freedom for compositions. MOTIONLAB's high resolution footage sweeps you from everyday life into vast digital worlds, where millions of pixels from electronic heartbeats.
MULTISCREEN / WIDESCREEN VIDEOS>>

"The 6-Screen Bar"
Type: Visualization
Sound: Antony Raijekov

Video installations are becoming more and more common-place. Perhaps it's due to the flexibility of visual appearance and the power of visual content - transporting messages, feelings, thoughts or emotions. Big is beautiful and MOTIONLAB likes it big. Watch this example of multiscreen visual art mapped on a 6-Screen Bar.

"The 360° Lounge"
Type: Visualization
Sound: Antony Raijekov

360 degree panoramas guide you through cities, landscapes or abstract worlds. Get involved in fascinating sceneries and see the different faces of planet earth. Feel the sun on your skin in Newport Beach/California or amble through the streets of Vienna/Austria...
TIMELAPSE MOVIES>>>>>>>>>>>>>



Timelapse Mix 2006
Type: Showreel
Sound: Stu Williams

High resolution timelapse movies from nature, cityscapes and events, display the beautiful wonders of life passing by in high-speed. By playing with time, this technique gives life around us a completely new meaning. Are you ready for a new reality?
PHOTOGRAPHY>>>>>>>>>>>>>>>>


"Personality v1.0"
Type: Photo-Slideshow
Sound: Diese

Capturing people doing people things as they are let loose into the wilderness of our world. No rules, no limits, no thoughts. These pictures were made with 100% all natural people.

"Walkthrough"
Type: Photo-Slideshow
Sound: CC4 feat. L'Onomatopeur

Plucking pieces of reality, surreality and everything in-between for closer examination, these photographs dissect the intimate details of the world we mostly take for granted.
MEDIA Installations
Cross-media installations as a work space for contemporary art and media design.

Slide Installation Mix
Type: Showreel
Sound: Audiodevice

Covering indoor or outdoor architecture with seamless slide projections in individual designs or working in urban space. The artwork is unique to each project. Architecture and visual space concepts come together and create a gateway to a world full of fantasy and atmosphere.
INTERACTIVE INSTALLATIONS>>>>>>>



"3-Station"
Type: Screenshots

Enjoy some screenshots of the visual output at an interactive installation for the video mobile company "3". Based on the ideas of the Equaleyes Community, MOTIONLAB conceived and executed this interactive project. Random audience members (party-goers) were shot using video mobile phones, then those videos were immediately implemented and mixed real-time into the show to the beat of the music.


"The Electronic Shadow"
Type: Pictures

"The Electronic Shadow" was a live feedback installation during Vienna's famous, annual "Lange Nacht der Museen" (long museum nights). By entering this installation, one influenced the visual output, becoming a star on screen and leaving their electronic shadow behind...